Hawthorns pupils design Air Quality Banners!
As part of Wokingham's air quality project we asked our schools if they would like to set a competition for their pupils to design an air quality poster asking drivers to stop idling and care for their health and environment. 
Hawthorns Primary School were delighted to take part and sent out the competition to their pupils. We received over 100 amazing entries from the school which made it very difficult to decide on three winners. But what was incredible was the number of pupils who understand the importance of the quality of their air and the impact drivers nearby can have.
The three winners that have been selected (see their designs below) will have their poster printed on a banner that will be displayed outside the school gate to give parents and drivers the chance to think about their actions.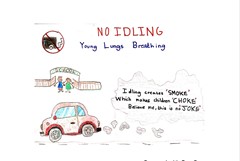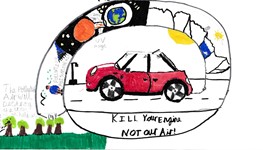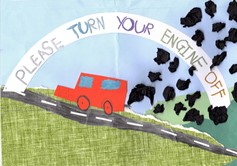 Hawthorns Primary School was one of the first schools to join the Air Quality project with our Eco Travel Officer.  The school have been highly engaged and willing to take part in many initiatives thanks to Sarah the Year 2 teacher and a governor who works closely to implement the project across the school.
We have been monitoring the school's nitrogen dioxide for around four months now.  They have also reached Modeshift STARS Green accreditation and are just about to complete their Bronze accreditation in a very small amount of time. They are signed up for many active travel initiatives such as the Big Pedal which takes place from 19th-30th April.  They will also be taking part in the project's air quality lessons and eco activities.
As well as our original four schools, we now have two more schools onboard our air quality project starting this March where diffusion tubes will go up outside the schools to monitor their nitrogen dioxide.  We also have other schools engaged in competitions and resources and very much invite the rest of Wokingham's primary schools to reach out if they would also like access to air quality lessons, activities, competitions, and events.
We recommend anyone else to follow My Journey Wokingham's Facebook and Twitter pages and sign up for our monthly newsletter. 
Watch out also for our Air Quality trail and competition coming this Easter!