Bikeability Resources
There are things you can do at home to improve your child's cycling skills and prepare them for Bikeability training at school or on holiday courses. If they can master some of the Bikeability Level 1 skills now, it will really give them a head start when they attend a Bikeability Level 1/2 course in the future.
1.  Visit the Bikeability website training page
2.  Check your bike and how to fit your helmet properly on the Bikeability website  These are really important things to do before you start riding.
3.  Once you are ready to cycle read some tips from our instructors on starting off and stopping your bike. These are included in Bikeability Level 1 training:
STARTING OFF
Get on the cycle, preferably from the left side, with the brakes applied.
Start with the right pedal raised in the pedal ready position (sometimes called the 2 o'clock position). 
Before setting off – With brakes on, look for hazards ahead and behind - especially look behind over your right shoulder.  When the way ahead and behind is clear, release brakes and set off straight ahead.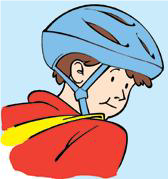 RIDING ALONG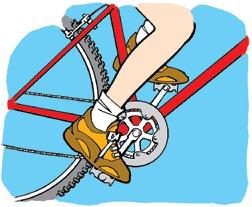 Remain seated on the saddle while riding
Use the ball of your foot to push the pedals
Keep your head up
Keep your fingers over the brake levers                               
 STOPPING
Plan where you are going to stop - don't brake suddenly, except in an emergency.
Find a safe place to stop where you will not be in the way of other people or traffic
Before you stop, you must look behind, over your right shoulder, to make sure it is clear behind you. You must be able to look behind without losing your balance or control of your bike.
 

Use both brakes to stop - the back brake slightly

before

the front. Spread your braking over 

a distance. When the bike stops, always put your left

foot down first and get off the cycle from the left, with brakes applied.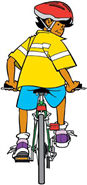 Further information
Practice the activities listed in the Bikeability Level 1 skills document which can be found under Related Downloads and tick the column on the right when you can do these.
To prepare for Bikeability Level 2 training, you will also need to gain a knowledge of the Highway Code, particularly learning about road signs which are relevant to cyclists.
Why not have a go at one of the Highway Code quizzes found under Related Downloads.
If you would like us to check your answers for you, please contact us.